Are you new to cruising and don't know what to pack? Or maybe it's been a while and you're looking for a few helpful hints of items to bring on a cruise.
Check out these 25+ tips to help you with packing for your cruise, especially if you're traveling with a family. (Bonus, this list comes with money and space saving tips as well!)
I love to cruise simply because it comes with built-in costs and childcare. I've been on about 8 cruises or so, and I keep updating my list so I don't forget anything. Make sure you let me know if I missed anything you love to bring with you!
1. Lanyard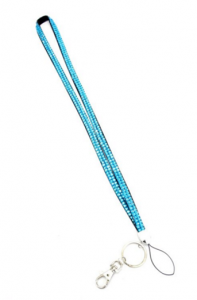 This is the item I use the most on ship — it holds my room key which also acts as a charge card aboard the ship. Cash and credit cards are a no-go except for paying your final bill or any last tips offered to the staff on the final day.
I've lost my card a few times (think pockets of bathrobe, beach bag, etc) but now that I use a lanyard, I can hang it up when I get back to my room. (I also bring a plastic sleeve for mine so I can keep my driver's license handy when I get off the ship). 
Here's a link to the same rhinestone ones they sell on the ship for half the cost.
2. Sunglasses and Hat
There's nothing worse than laying out on deck, catching some sun without your favorite sunglasses. Sure you can buy some cheap ones in port, but it's better to pack your favorite.
Hats are a must-bring item for me while cruising. If you don't have one that you love, you can purchase hats on the ship or at port. I also take a beachy baseball hat for windy days on deck.
3. Over-the-Door Shoe Organizer
You may be wondering why this is on my list, but this is a must-have for our cabin. We're sleeping 4 in our room and that comes with a lot of chargers, electronics, and small items. You can find a mesh shoe organizer pretty cheap which is my favorite so the kid's wet things dry like goggles.  Tip: 1) make sure your organizer is see through your organizer to find what you're looking for and 2) bring felt or a bit of material to go under the hooks so you don't damage the doors. They may charge you if you do.
4. Chargers
This one goes without saying, but don't forget your chargers. I let the kiddos bring their electronics on the ship, but play time is limited.
5. Drink Cups/Mugs
The ship will provide you with small coffee and drinking cups, but it gets annoying to fill them up over and over again. If you're a big coffee drinker, consider taking a mug to double for an iced tea/water/soda mug.
I don't drink a lot of coffee, so I use a I like to take a big tumbler mug with straw; it's great especially when the weather is hot I dump a ton of ice in it and can relax poolside longer. I also like having the handle for when I'm carrying a lot of things.
6. Sunscreen and other Toiletries
This is a must especially if you're traveling south. The closer you get to the equator, the more intense the sun will be on your skin. You will be applying often, bring extra especially if you have kiddos in the pool.
Other toiletries I always take with me: Tip: Always pack them in ziplock bags to avoid liquids spilling.
Shampoo and conditioner
Lotion
Makeup and brushes
Small bottle of aloe. If someone ends up with a burn, I can get more at the next stop.
Q-tips and cotton balls
Tampons (or other personal items). They don't have a lot of options aboard the ship and what they do have is very expensive.
Condoms or birth control if you need it.
Medication: Tylenol, Tylenol PM, children's Tylenol chewables, Dramamine (if you need it)
Medication (prescription) if you need it.
Highlighter: for highlighting what you'd like to do on the itinerary
Tip: Swipe the free pen in the room if you need it for signing customs forms on the way out.
7. Wine
Most cruise lines let you take -one- bottle of wine per adult 21+ years of older on the ship. You can uncork it in your room, or take to the dining room for a corkage fee. Tip: We always uncork in the room and fill our stateroom glasses up just before dinner. By the end of the cruise, we've saved at least $30+.  And yes, you can bring wine openers or even a small knife with a bottle opener attached!
8. Non-Alcoholic Beverages
If you're interested in saving some cash and don't want to splurge on the soda-pop program (it's expensive because you have to pay for all the adults in one room, for the week of the cruise), this may be the option for you.
I recently brought a small pack of Diet Coke with me so I could buy the little mini-bottles of rum in my room. Bam, mixed drink and I've saved on the automatic gratuity and had the convenience of making it in my room for hanging out or sitting on the balcony. Note: if you bring it with you,  no plastic bottles are allowed. Whatever you bring needs to be completely sealed and in its original packaging.
I packed my soda inside my suitcase because I didn't want to carry it. I had to open my bag at security and they popped the cardboard open to check what was inside. Then I zipped it my bag and I was on my way.
9. Walkie-Talkies
This one is hit or miss because of 1) interference from other walkie-talkies and 2) interference from the metal aboard the ship. For example, if one person is in the dining room in the belly of the ship, and another person is inside the cabin, the walkie-talkies won't work.
If you have a cellular phone, texting is helpful and is usually only 50 cents per texts sent on most cellular international plans and free for incoming texts. Tip: call your cell phone company in advance before you cruise. You can also buy a wifi package on ship which will be more reliable and cheaper than your cellular plan. You may also be able to share the login people between cabins as well.
10. Portable Clock
There are no clocks in the room. I don't like to rely on my cell phone because sometimes the ship's time is different from the cellular provider's time.
It's also helpful if you have older kids so they know how much screen-time they have left, or when it's time to turn off the lights and hit the sack in the if the parents are out late. I always bring a battery operated clock so I can put it anywhere and don't have to rely on the outlet.
11. Shower Caddy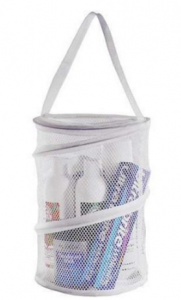 This certainly isn't necessary, but it's something that I bring with me on every cruise.
Yes, the cruise ship provides soap and shampoo in dispensers on the shower, and there's a small holder for soap, but there's nowhere to put your personal products.
When my kids were younger, this was especially important for my shaving razors – I wanted to keep it out of their reach. Of course, you can put your items on the floor, but it gets old bending over backwards in a small space, especially if you're sharing that space with a toddler. This mesh one is nice because it's small and lightweight.
12. Power Strip
There is one outlet for charging your electronics. I say again, there is ONE outlet for everything. I personally love this Belkin swivel surge protector because 1) it's a surge protector and 2) the input swivels around so you can rotate the direction the outlets face no matter the room.
Some cruise ships ban 'power strips' but this one isn't considered one, so you should be good to go (I haven't had any problems). You'll need the extra outlets for all the gadgets and hair electronics.
13. Dry Erase White Board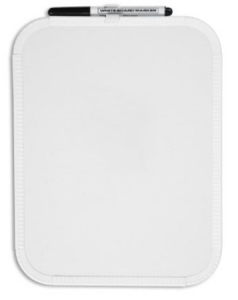 I love taking a small dry erase board (with magnetic tape on the back) so we can leave notes for one another.
This board offered an easy way for our families to pass notes with where we were heading so that others could catch up. I like this one because it comes with a pen-rest built in on top.
If you're traveling with people in other cabins, this one is on the must-bring list.
13. Night Light
If you have little kids, you may want to bring a night light. Sometimes those with small bladders have to get up in the middle of the night and it's nice to not have the blinding bathroom light wake you up (the light switch is usually outside the door, so you can't turn it on inside the bathroom).
14. Goggles and Snorkels
If you have little ones in the pool, bring goggles. The pools are saltwater and the kid's eyes will burn. If you're going to snorkel, you can consider bringing your own gear, but most places will rent out used fins and goggles, but will sell you a cheap, new snorkel for a minimal cost.
15. Paper, Scotch Tape, Decorations
My little ones enjoy drawing pictures and taping signs to the front of our cabin. Bonus: it makes finding your room easier, especially for the kids, or those adults who've had one too many.
If you're celebrating a special occasion, have fun with decorating your door or room. Tip: If you're on a group cruise, it's always fun to get matching t-shirts for the first day on ship.
16. Playing Cards
Some people enjoy playing cards on ship, save some cash and bring your own. There's also a game room inside most ships, so there are other options available. They ask that you don't remove the games from the room, so if you want a table with a view, bring your own.
17. Headphones
If you're wanting some quiet time or just want to listen to your own tunes (or maybe the kids need it for their electronics so you can watch a TV show), this will be on your pack list.
18. Passports
You'll definitely need a passport if you're traveling to international waters. You will only use then when you get on and off the ship in the States. Otherwise, you can use a photo ID and your room key. It's always recommended that you make a copy (paper and digital) of all those traveling with you in case they get lost of stolen (Tip: there should be a safe in your cruise cabin to lock up your valuables).
19. Additional Clothing Items
Light Jacket / Wrap: No matter how hot the destination, I always take a light fleece and end up using it. When the ship is in motion, it can get quite windy and sometimes cold depending if the weather has turned on the deck. I also bring a light wrap for when the dining room's A/C is on blast.
Swimsuit Cover-up: Don't forget your cover-up or wrap for the pool or spa.
Pool bag: Don't bring anything too bulky. We take a backpack for when we're walking around at port stops, and have a separate beach bag for relaxing by the pool.
Tennis shoes: If you're going to shoot some hoops aboard the ship.
Water shoes: If you plan on going into the ocean, some beaches are quite rocky.
Extra hangers: You don't get a ton of hangers, so if you have a lot of clothing items to hang up, bring a few extra.
Tip: Don't over pack. Plan on wearing things a few times to save space. There's laundry facilities on the ship if you need it.
20. Towel Clips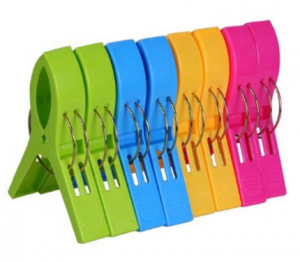 If you want to look like a cruising pro, bring a couple towel clips for your lounge chairs.
It'll make sure someone doesn't swipe your towel while you're away and it also prevents the wind from blowing it. If you lose your beach towel, there can be a $20+ charge on your room.
21. Candy and Gum
There's usually a sweet shop aboard the cruise ship and it's quite expensive. I usually take the kids to the store before the cruise and have them pick out a couple special treats to save money. Tip: Cruise ships don't typically sell gum, so if you like to gnaw on it, bring some with you.
22. Ginger Chews / Motion Sickness Help
If you can take Dramamine without getting dog-tired, then I'd suggest taking that. If medication affects you, I'd grab some ginger-chews (find them in the pregnancy and baby section at stores) or behind the ear motion-sickness patches.
23. Ear Plugs
I personally don't like ear plugs, so I turn on a white noise app on my cell phone that I use for traveling so I don't have to listen to doors slamming or chatter in the hallway. Pre-download your app before you board the ship to avoid slow data or heavy fees.
24. Pop-up Hamper
I love this for traveling especially with kids. It's a small room, so if you know if something has been worn and dirty, toss it in the hamper. Get a small lightweight one like this one.
25. Book or E-Reader
I can't travel without a book. I always make sure to download a few books on my Kindle so that if I happen to finish one, I've got another one handy. Tip: If you don't know what to read, there's always a library on ship that you can choose from. 
–some other helpful cruise ship hints-
1. Get There Before Your Suggested Boarding Time
I've made the mistake of waiting to board late to avoid the long lines, but discovered there was no parking at the cruise ship terminal. Now I go early and plan on waiting. Usually you're given a number based off arrival times and board in that order (after the VIP and Suite people). Tip: If you're traveling with an elderly person or someone who needs wheelchair assistance, ask for help. You'll likely get priority boarding too.
2. Carry-on Your Own Bags
Take all your bags on ship yourself if you're able. If you check a bag, it can get lost (I've seen it happen on every cruise) or best case, you still won't see your bag for several hours (think four or five hours).
If you bring your own bags aboard, then you can immediately unpack and have everything at your fingertips.
Tip: whatever you do: pack your medicine and valuables. Also bring your swimsuit in your carry-on so you can get in the pool if you'd like.
Tip: If you check your bags, take a photo of them on your cell phone so if they are lost, you can show the cruise ship employees what they're looking for.
2. If You Forgot Something, Wait Until You Get Into Port
Just outside of the dock, there are plenty of stands waiting in the wings to sell you whatever you've forgotten from over the counter medicine, hats, sunglasses, nick-knacks and more. If you don't need to buy aboard the ship, don't.
All of the links above are some of my favorite products, which take you to amazon. They are affiliate links which means if you purchase something, I get a few cents in my pocket.
Happy cruising!  Let me know how these tips work out for you and please comment with any questions or advice!
Here's a Pinterest Pin so you can find and share this list!