Check out where 15 Years of War has been featured and reviewed:
Idaho Statesman: "Readers will weep with Kristine and her family as they redefine strength and affirm that love, faith, and commitment really can get you through the worst of times.Recommended for a variety of audiences, this book would make an excellent gift for anyone considering the service. It is extremely readable and deserves to be more widely known as an honest and important window into the lives of those who have given so much for all of us."
SpouseBuzz by Military.com: "When reading this book, you can't help but find yourself nodding. While Kristine and her husband masterfully tell their story, so much of it could be written by any one of us. Deployment. Frustration. Worry. Heartache. It is so beautifully relatable, vulnerable and real. Read this to know you're not alone, military life isn't without its obstacles and above all else, hope remains."
NPR: San Diego/Los Angeles: "It's not that they come home and everyone settles in and gets to be a family again. It's constant deployments, constant training," Schellhaas said. "The operational tempo of 15 years of war has taken a toll on our families."
Publishers Weekly: "First-time author Schellhaas presents a moving memoir of her life with her husband, Ross...  This detailed "glimpse into military family life" starts after Ross is deployed to Iraq after the events of 9/11. She not only captures the struggles of a military spouse—"I had to get used to eating alone, sleeping alone, and managing pretty much everything without him"—but also the shared troubles of her extended military family... The success of their marriage over time—as well as her founding of the USMC Life website to "inspire, connect, and educate" other military families—gives this heartfelt memoir a happy ending."
5-Star Review: Foreward Reviews, "15 Years of War is a frank description of what it takes for a spouse and family to support a soldier. The Schellhaases' story is deeply personal and unique, but it will resonate with other families, both civilian and military. For young military families, 15 Years of War offers a road map to military life, and for those who do not have a family member in military service, it is a potent reminder of the sacrifices and struggles that dedicated men and women make on our behalf."
Military Spouse Magazine, "15 Years of War is a searing, heartbreaking, triumphant and ultimately powerful memoir, told in two different voices: husband and wife. It's an account that every military family should read, but it is also a memoir that should be read by those with no attachments to the military lifestyle. While spouses will find themselves identifying with Kristine's sentiments, and service members will find a parallel in Ross' thoughts, it is a gift to those who have only experienced service and war through the nightly news broadcast. This book is truthful, and most importantly, real. It's not what one will read in history books; it is much more."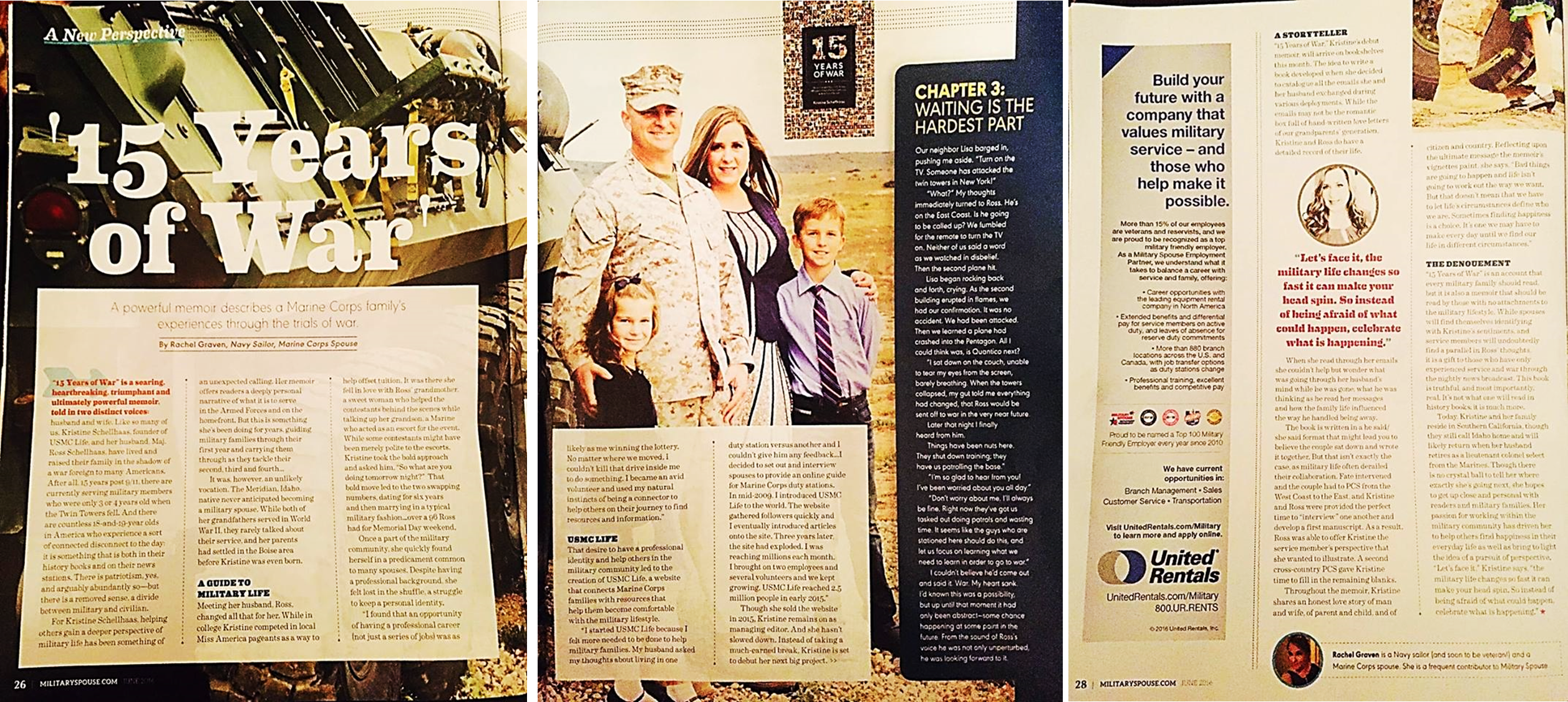 Countdowns and Cupcakes: "If I had to pick just one word to describe this book it would be real. Kristine doesn't sugarcoat anything and really lets the reader into the darkest corners of her life and marriage. I appreciate that as both a reader and a fellow military spouse. She gives the world a realistic glimpse of what military families have been through over the past 15+ years and that's so important. No matter what your affiliation is to the military, you will find the story captivating and powerful. Without hesitation, I recommend adding this book to your reading list!"
Military Shoppers: What really stuck with me throughout the entire process is the authenticity of the life that author Kristine Schellhaas depicts. It's a he-said, she-said account of the life of a military family starting just prior to 9/11. It shares the ups and downs so many of us are familiar with and offers a glimpse at how resilient military families truly are.
1200 Miles Away, "This book isn't a "How to" for new military spouses and thank goodness, because I would certainly fail in the living on a military base portion. Instead, it is a perfect glimpse into one family's life without edit or pixie dust. It is raw and real, and just what anyone who knows someone in the military wants to really read. It isn't the Hollywood version of the military lifestyle. It's the real, "murphy's law strikes every time" version."
Servant Mama, "This incredible book is written in such a way that even those outside of the military community can understand and appreciate it... As a fellow military spouse reading this, I laughed, I cried, I shook my head in agreement. This is only one well-written story, but it gives voice to the thousands more just like it. Because of that, it is an important part of our nation's modern history as it paints a picture of just what these 15 years of war have been like for those living it."
Soldier's Wife, Crazy Life, "This book is beyond amazing. For anyone who has been through deployments, you will relate to so much in this book. For anyone that has gone through extra difficult situations in military life, you will relate to this book. For the general public that are not associated with the military, you should read this book too. It will give you a picture of what it is like for military families in the last 15 years of war."
The Seasoned Spouse, "if you are looking for a book full of honesty, humor, military pride, and a touch of tragedy, then the 15 Years of War book is for you! If you are new to the military, and want to know how all the older spouses make everything look so easy, then you can learn some of the secrets in the book. If you are curious how the Iraq and Afghanistan wars changed the military deployment tempo and affected military families, you can see the direct results in the 15 Years of War book. And if you just want a reality check to see if your crazy military life is truly normal, then you will find out by reading this book. I recommend it for any military family, spouse, or parent."
Military Spouse Blog, "It is amazing! What an inspiration to milspouses! ... It is wonderfully written and includes letters back and forth with her husband, her real struggles, and the resiliency that pulled her through! She is one tough cookie - an advocate for military families - speaking for our rights! I am just blown away by how accurate it is to the milfam life today."
Unprecedented Mediocrity, "The notion of my kids grieving as they struggled to grasp with why daddy isn't coming home is just about more than I bear. I took read of a book titled, 15 Years of War by Kristine Schellhaas and it was a really eye-opening experience into the families who have endured this GWOT stuff since the beginning. You really can't tell the full story of our war without adding this piece to the conversation. As a Marine spouse, she is the real deal and it won't take you too long into this book to realize it."