I had butterflies in my belly, not from the excitement of a loved one, but rather from nervousness if my whole scheme would work out. I had heard about the conundrum known as Space A, but knew that it was a gamble if everything would actually work out. I brought my hare-brained scheme to my husband and suggested we take a trip to Hawaii with the family over Spring Break… "oh and by the way, we're going to take Space A to get there". He isn't the gambler that I am, but after explaining that I knew people (surely that must count for something), yes TWO people who have used the program with success and that we should just go for it! Hesitantly, he agreed.
Part 1, husband agrees. Part 2, look into getting flexible hotels.
I like luxury. I like it a lot. But I also like to do things and save money at the same time when possible. You know those annoying phone calls that always happen during dinner? They always want a few moments of your time… so instead of hanging up, I listened and actually took them up on their offer (I think it was all the wine I was drinking). Shell Vacation Club wanted us to do was sit through their two hour presentation in exchange for getting a highly discounted room in Hawaii! Why the heck not? We were planning on going there anyhow! I signed us up and we were able to get a really great resort in Waikiki a block from the beach for just $88/night (I requested an upgrade to a full kitchenette and suite).
Our kids are 7 and 3, so ideally we like to book suites so that we can separate the kids from ourselves. It really works out great, they go to bed at 8:30pm and we get to close the door and enjoy alone time after curfew. I then booked out an extra four days at a discounted rate around $198/night so we could stay on at the hotel and get a really great vacation on the cheap. So what? We had to donate two hours of our vacation to listen to them try to sell us a timeshare (always say no!), but it was a great way to save some dough. Think it's a big risk to pay that much for hotels if we don't make it? They offered a $25 cancellation fee per night if we ended up not being able to make it on the aircraft, so we really wouldn't be out a lot of money if the flights didn't work out.
Plan B
The week prior to our trip, my husband started talking about going the wine country if this didn't work out. I didn't even entertain the idea, partly because I've taken my kids to the wine country… and kids+wine country = no fun. I was sure positive thinking would get us there!
The First Flight Out
You will need to start watching flights departing and arriving from bases near you. For me it was easy – I needed to go to Hawaii and there are only two bases on Oahu where we could land: Kaneohe Bay (Marine Corps) and Hickam (AF). Several bases fly to Hawaii near me (we're stationed at Pendleton) but the closest airports were Miramar (MC), North Island Coronado (Navy) and March ARB (AF Reserve Base). The best chance of getting to Hawaii was North Island since they have the most frequent flights. However, I kept my eye on both Miramar and March just in case their dates worked out better.
Now that I picked out my air bases to depart from, I needed to contact them and let them know I was interested in flying out. There is a really cool app called "Take-A-Hop" which has all of the phone numbers and emails necessary for reserving your place in line [this does not reserve a flight, but it gives you a window of priority over other people who may be competing with you to get on the flight]. I highly recommend that you put in your reservations 45 days before you plan on flying (you will need to have approved leave to do this). Space A will hold your spot for 60 days after you contact them. SAVE YOUR EMAILS to them so that you have a record of when you contacted them. You will need the 15 days on the backside to get you home. Don't also forget to reserve your spot on the way back – that is equally as important. If you don't use the Take-A-Hop app, you can also look up each airport and contact them through their websites.
Now that we had a window reserved at the air bases, we needed to find the flight to go for. We found one on Friday, April 6th leaving Coronado to Kaneohe Bay. Success! All we had to worry about was getting on that flight!
Onward and Upward
We needed to be at North Island for flight check in (also called roll call) at 7am. We live about an hour from Coronado, but we weren't going to take any chances getting stuck in traffic. We woke the kids up at 4:20am and loaded into our pre-packed car at 4:50am. We made it down to Coronado airport at 6:10am. The airport started to buzz around 6:45am but they didn't do check-ins until 7:30am (30 minutes late). We nervously sat and watched, wondering who was on what flight, if we would make it? They quietly called for the flight, thankfully my husband heard and went to check in. We wouldn't know if we made it on until later.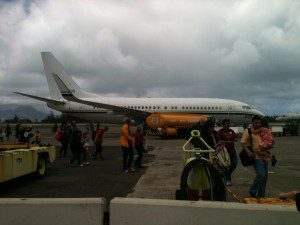 About 8:30am, they announced our names and we loaded our checked bags to be weighed. Then we shuffled off to the side where we waited to walk onto the flight line. We took a C-40 to Hawaii, allowing 69 of us to get on the flight. The C40 is just like a 737 but the front part has been converted to Cargo space and the seats have about 6 more inches of legroom. We took off at 9am, after receiving the same in-flight instructions from Naval reservists in flight suits referring to emergency exits and whatnot. After we were in the air for about an hour, the reservists pushed a cart of snacks up and down the aisle selling miscellaneous items for 75 cents/each… everything ranging from soda to chips, candy, etc. All of the proceeds go to MWR (Morale, Welfare and Recreation) which is equivalent MCCS.
Aloha, Hawaii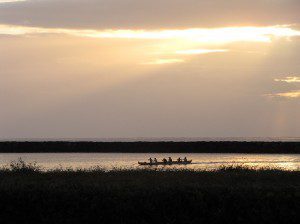 We landed at noon on the dot. It was a quick six hour flight and Aloha Hawaii!
We walked to a very cramped and old waiting room where most of the passengers on the flight awaited Taxi service and Enterprise rentals cars (they will pick you up!).
If you are going to book a rental, make sure that you book the location that is on base! I booked a rental on Kaneohe, not Kaneohe Bay, so my husband had to drive with them to their location which took forever! Piece of advice… Moms, ditch the kids, get in the rental car! The kids will be tired and exhausted and you will not want to try to entertain them for another 2.5 hours (which is how long it took for the hubs to get back). You will be in dire need of alcohol at this point!
After loading up, we swung into the Commissary and were on the road 30 minutes later heading towards our hotel in paradise. We spent ten days in Hawaii counting flying days. We had a great family vacation hanging at the beach and pool, discovering the Dole Planation where we participated in the World's Largest Maze and ate pineapple ice-cream, we snorkeled in the ocean, visited the USS Arizona and more. Our hotel room had a kitchenette where it allowed us to make breakfasts and lunches if we chose, saving some more moolah. One big plus to having a kitchenette is that we could lounge around in the mornings and feed the beasts without hurrying up and waiting in line to eat breakfast.
AF versus Marine Corps
Fast forward to getting back to the mainland: we started watching flights after a few days of being on the island. We had an idea of when we wanted to go back, we just had to find the right flight to make it happen. Thursday we drove to the Hickam terminal so we could get answers in person instead of over the phone since it was so close. We were breathless…
Marine Corps Terminal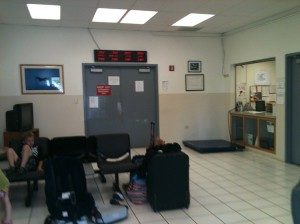 Versus Air Force Terminal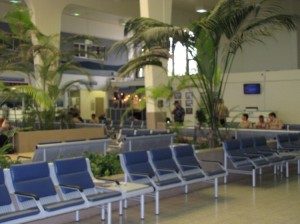 …this beautiful sparkling place which actually looked like a terminal with TV monitors, showers, a USO and more! If you've never been on an AFB, you won't realize how good the other people have it. Psst, you should check out their gyms! More on that later.
Goin' Back to Cali
We found several flights to Travis AFB (outside of San Francisco) but that was a little too far for us. We thought we would wait it out since there was a flight to March ARB on Saturday as well as two flights to North Island on Saturday and Sunday. Saturday morning arrives and we're ready to get on the plane. We woke up the family at 3am and arrive at Hickam at 4:20… only to discover the flight to Coronado isn't taking passengers and the flight to March has been "rolled", which means it was scheduled to go out the next day. The good news was that there was also a flight headed back to Pendleton on Sunday. Exhausted, we crawled back to the hotel we had earlier checked out of and thankfully they let us back in until the noon checkout. We hung out at the pool and got a reservation at the Naval Lodge on Ford Island, which is about 10 minutes from Hickam.
That evening, we made our way over to the Naval Lodging and opened our room and immediately were overpowered by the stench of burnt bacon or spam? It was gross. We opened the windows and turned on fans, but alas the smell was here to stay. I swear the sheets even smelled of bacon, and believe me, I'm a girl who likes bacon, but eww! They had a nice pool at the facility, but we didn't use it. The rooms didn't look that bad, but considering they were $99/night and what we got for the bit more, I was glad stayed at a resort.
Take Two
Sunday morning arrived with an early wakeup call at 1am; we arrived at 2am for a 2:45am roll-call. The flight to March had been rolled again, so our only hope was the flight to Pendleton scheduled for 4:40am. Only 19 seats were available and a lot of people were clamoring to get on this flight. We were told we had first priority to get on the flight, so this was good news. They ended up getting 57 seats on the plane due to the amount of people wanting to get on the flight.
Boarding procedures for this base were completely different. They followed TSA rules for carry-on which meant that we couldn't take water on the plane or anything over 3oz. Our bags were screened and loaded prior to us getting on the flight. We went through the metal detectors and scanners and were loaded onto buses at 3:20am. We got into a C17 Globe Master which I thought was pretty cool. We picked out our seats, buckled up and waited and waited and…. They told us that the communication devices were not working. We waited some more. They got those fixed… then found out the flaps weren't working. Then we got nervous… we were in the "waiting place". Shortly thereafter, we took off at 5:30am.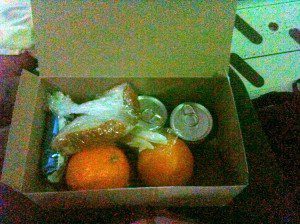 Before we got on the flight, we purchased four meals for approximately $18. Once we leveled off at cruising altitude, they handed out boxed meals which included a ham or turkey sandwich, bag of chips, piece of fruit, juice, treat and bottled water. Since we could not take our own water on the plane, this was a great discovery. After we were airborne, airmen came and filled up their inflatable mattresses, placed their sheets, pillows and sleeping bags on top and went to sleep. Soon thereafter, they announced that they had free blankets which were individually wrapped in space bags, so we happily laid on the floor and immediately zonked out from sheer exhaustion.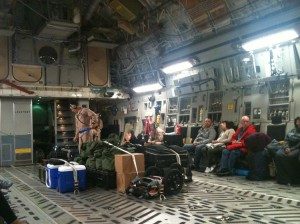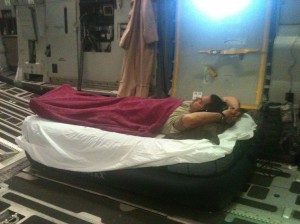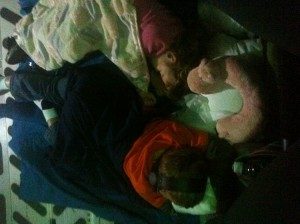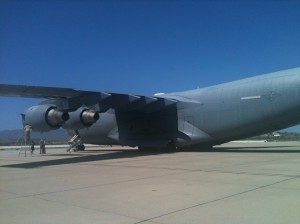 We landed at Pendleton after a 5.5 hour flight. Not many flights land at Pendleton, so we really lucked out. We would have had to wait until Monday for the next flight back to North Island which would have been disastrous for our plans of returning to work. The big lesson we learned was to give ourselves a three day buffer on each end: instead of a Friday-Sunday window, a leave date of Thursday-Tuesday window is better since since more flights are scheduled Monday thru Friday.
I did a lot of research before I took a chance on Space A. Here is what I learned.
Baggage: Baggage weight limits
Packing is crucial when it comes to Space A; there are a lot of planes which have weight restrictions.
Don't pack a bag more than 40 pounds to check (some flights have a 30 pound limit per person, per checked bag).
Families traveling together may pool their baggage, but make sure you don't exceed the 40 pound limit per bag. We took one bag for the kids at 40 pounds so we could have a bit more weight for the 10 pound carry on weight (computer, dvd player and other tech-y stuff really adds up!)
You can check pocket knives, large bottles of shampoo or other liquids if you'd like.
Car seats and strollers don't count as weight or checked bags. Find out what kind of airplane you will be on, you may decide to keep your small child in it (we did in the C-17).
Everyone must wear closed toe shoes.
What to Bring on a Space A Flight
Bring ear plugs. If you have small kids, buy the earphones that block out noise. They are cheap and totally worth it. We didn't need it for the flight down, but was necessary on the way back. They do offer free ear plugs, but they aren't very comfortable.
Bring snacks and water: You never know if they are going to offer snacks for sale or in-flight meals. Plus the food they serve isn't necessarily good for you, so we brought fresh sliced fruit to eat on the way over. We couldn't bring fruit on the plan back from Hawaii due to regulations.
Bring a small sleeping bag. Most Marines have small sleeping bags that fold up really small which would be easy to check in case you don't need it. Small blankets and the U-Shaped pillows that wrap around your neck are always nice. We did see a guy with a cushy yoga mat… very smart if you don't want to bring a blanket.
You may want to bring a knit hat with you on flights, I've been told that some military aircraft are cold (and slow!)
How to Register for Space A
Register 45 days in advance for any airbase you think you might need to fly out of for your vacation. That includes airports in which you might take a transfer flight. This doesn't guarantee you a ticket.
You will need to register for each person flying with you. One email is fine, but you will need to note the names and ages of any children with you, as well as the spouse name, if applicable. Some airbases require social security numbers in advance.
Some bases will tell you what kind of plane each flight is, it may make a difference with whether or not you want to be on that plane. Some planes are really slow: KC-135 planes and others.
Identification to Bring With You on Your Flight
If you have passports for your children, bring them. If you don't have passports, I highly encourage that you purchase them. You never know when you may need to travel internationally and passports are a much easier item to carry around than Birth Certificates.
Hickam was asking for children's social security numbers along with their Birth Certificates, but because we had passports for the kids, they didn't bug us.
Always bring a copy of your approved leave papers. They will ask for it at check-in.
Who's Eligible to Fly Space A?
Travel Eligibility: We flew Category 3 for regular vacation leave. There are very few Category 1 and 2 people flying on the plane… that is why we ended up getting first priority. All of the retirees who were trying to get on the plane (Category 6, the lowest category) were able to fly successfully, although they do get bumped quite often.
You must travel with your active duty sponsor if you live in the CONUS (Continental United States) to use Space A.
If you are stationed overseas, in Alaska or Hawaii, then you are restricted to travel within your assigned theater and to/from CONUS (not within CONUS), so long as you have a letter from his/her command.
If your spouse is deployed, you may fly to and from your spouse's location, but you need to have a letter from his/her command. No, you may not fly into a combat zone or dangerous area. There is no limit to how many times you can go back and forth, except to Korea, you may only go once for up to 30 days.
Any of your dependents can fly with you as long as they have an ID card (if they're older), or if they are young children, they need to be older than 6+ weeks.
If you are pregnant more than 34 weeks, you are not eligible to fly.
Helpful Resources for Space A Travel
Personally I didn't find the message boards all that helpful. There are a lot of people asking questions with regards to which flight goes where. Many of your questions were probably the same ones I had… and I went straight to the source asking the airbase directly.
I hope that this encourages you to check out Space A Travel and give it a shot!
This article was published at USMC Life and Marine's Blog, the official Department of Defense Blog.