Service members put their lives on the line and face adversity whether forward deployed, supporting or preparing for war. In most veterans' minds, the real heroes are their children who didn't choose this life, but follow along and serve quietly on the homefront. April is the Month of the Military Child. It's a small gesture to say thank you for the countless days, weeks and years lost with their loved one.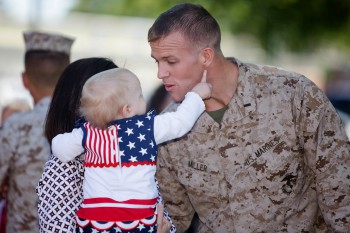 Some children's sacrifices begin earlier than others.
A staggering number of families go through the birth of a child while the dad is forward deployed. Many of these same families also endure missed birthdays, special events, and holidays — sometimes several years in a row.
"My husband deployed for over a year just a week after our first child was conceived and came home to a 5-month-old!" said Stacie Porter, whose husband is with 7th Engineer Support Battalion at Marine Corps Base Camp Pendleton. "He totally missed everything related to the birth of his first child."
Hardships on the home front are often compounded by distance as well. Many families are stationed thousands of miles away from their extended family members and friends, experiencing loss of support and the opportunity for children to get to know their grandparents, aunts, uncles, cousins and more.
There's also the assumption that because a Marine isn't actively deployed, the demands are less, which just isn't the case. "My daughter who is six rarely even asks where daddy is because she is so used to him being gone," Porter said.
"Even when their daddy is home from war, he works such long hours that our three-year-old often tells people that 'Daddy is in 'Ganistan,'" said Abbey Bertalone, whose husband is with 9th Communication Battalion. "It breaks my heart every time he says it."
Of course, there are always moves and school changes factoring into difficulties faced.  My son is eight and will be moving to his fifth duty station and third school. We try to stay positive by letting him know we're excited about the move and remind him of friends he knows who are already living there.
Older children are altogether different with demands placed on them by new schools, with some requiring military children to start completely over with particular academics, or requiring a student to fit in four years of physical education their senior year, if it wasn't required earlier. This often translates to an overloaded schedule and summer school for kids.
Older children also face additional stresses which are not isolated to academics, but extend with the concerns of military life alongside their parents. Many experience the worry of family and friend's safety and imminent deployments, compounding the pressures and stress already facing our youth today.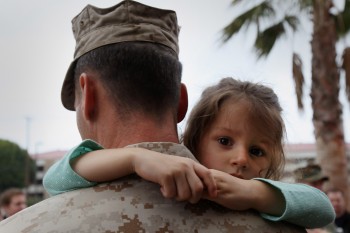 However, all the sacrifices are not for naught; there are some definite positives of being raised in our military lifestyle. Children get to experience living across our great nation and many are also exposed to cultures and life around the world.
"My son, at only three years old, could explain to you that the earth turned and how that created time change," said Heidi Wilde, whose husband is with 1st Combat Engineer Battalion. "I had to talk about this with him because he knew that when we called or Skyped in the morning in Okinawa, it would be evening for Grammy and Grampy."
Strength, courage and pride run deep within military children, who are more accepting of others, face change with grace, and cherish friendships and bonds forged with our lifestyle.
"Being a military brat myself, I can tell you that one of the long-term consequences of growing up in this lifestyle is that I have very different ideas about what constitutes 'home' and 'family' than most people seem to have," said Wilde, whose dad is a retired UH-1N Huey helicopter pilot. "Not a bad thing, I think, just different."
The military melting pot of cultures and differences enhance and shape our children into the dynamic individuals they are today. Please join me in thanking military children for their tenacity and service.