We were ready to kick back for the weekend, visit somewhere locally, and reconnect with some quality time together. Perhaps your family is like ours where our active duty military member has been continually deployed, and when he's not deployed, he's working extremely long days.
Most of us stationed in Southern California know that Catalina is an island, so if you don't own your own boat, you can hop aboard the Catalina Express ferry via Dana Point or Long Beach using discounted tickets from ITT on base. The other option is taking a helicopter flight. We had the opportunity to fly Island Express – who also offers a military discount – from Long Beach to Catalina. 
We arrived at the Long Beach facility and checked in 30 minutes prior to boarding. We were allowed to bring 25 pounds of gear per passenger, so we handed over our bags complete with beach toys, towels and water for the afternoon.
It was time to board!  We settled in the aircraft where two of us sat up front and four sat in the back. We lifted off quickly and made our way across the ocean where we spotted a pod of dolphins. Our pilot circled around and swooped lower to allow us a closer look before making our way to the island. Before landing, we were offered a scenic sweep of Avalon.
We stepped off the helicopter, gathered our gear, and loaded into a taxi which drove us approximately five minutes to Avalon. We walked to the Green Pleasure Pier connecting to the heart of the city and picked up our reserved tickets for an 'Underwater Expedition'. We were originally going to book a glass bottom boat ride, but discovered they had an upgraded boat similar to a submarine with windows, where they too had a military discount!Once we boarded the ship, we were able to view the sea life from five feet under the water's surface. We made our way out to the Marine Protected Areas (MPAs) for a 40 minute tour. The kids had a blast pointing out the kelp, Garibaldi, Opaleye and other varieties of fish. The ship fed the fish regularly, so they quickly made their way over when it came into the preserve.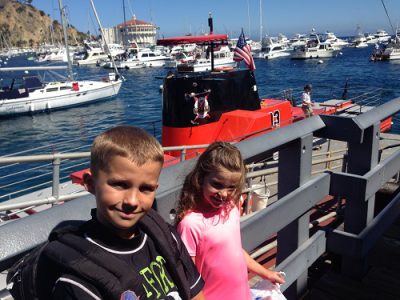 Next stop was the beach. Friends recommended making our way to the private beach near the Casino, the Descano Beach Club. We were relayed tales of beach-side lounge chairs complete with servers and a variety of food and beverages.Thankfully, I didn't experience much motion sickness as I tend to get sick on amusement park rides and boats. It was a calm, beautiful day outside and the ride was easy to manage. Once we arrived back at the dock, we walked to a restaurant for bite to eat, reveling in the beautiful weather and enjoying one another's company.
We thought it was worth checking out and arrived after a leisurely five minute walk from the pier to just outside of the Casino. We paid a $2 entry fee per person for adults and the kids got in free. We made our way over to the lounge area and were disappointed to learn that the chairs had already been reserved for the day. For those interested in reserving online or in person, it is $70/pair for the day.
The beach next to the reserved area was packed with people. We were welcome to set up chairs, blankets and more, but made our way to the lower beach area past the retaining wall for a bit more room. The beach was rocks instead of sand and the waves heavier than the waters situated next to the pier. If you wade into the water, water shoes or booties are highly recommended.
Thanks to USAA to providing our family the opportunity to visit Catalina for a day of fun in the surf and sand.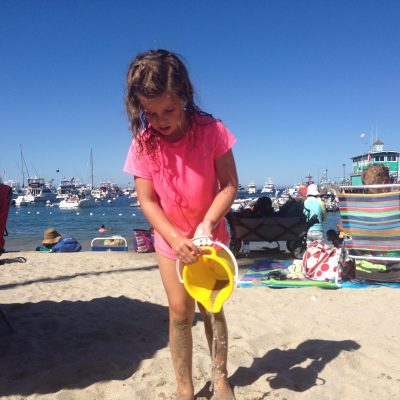 The Beach Club is definitely a great place for people watching, looking to make a new friend, or for those looking for a party atmosphere. We wanted a bit more solitude, so after a while, we packed up our belongings and headed back towards the pier where sandy beaches and calmer waters awaited us.
We hit Olaf's ice cream shop for a sweet treat on the way back and were quickly set up where the kids could build sandcastles. I sat back and took in the beauty of the island; I was thankful for my husband, our children, and the life that we had carved out together. I am continually grateful for all of the sacrifices my spouse makes to our great nation and those of our children on the homefront.
Our day was coming to an end and we truly had a spectacular experience in Avalon, Santa Catalina Island. The sun was setting and it was time to make our way back to the helicopter pad. We will look back at this trip with fondness as a truly special day. If anyone is looking for a special place to get engaged or celebrate a special day, definitely check out Catalina.
This article originally appeared at USMC Life.